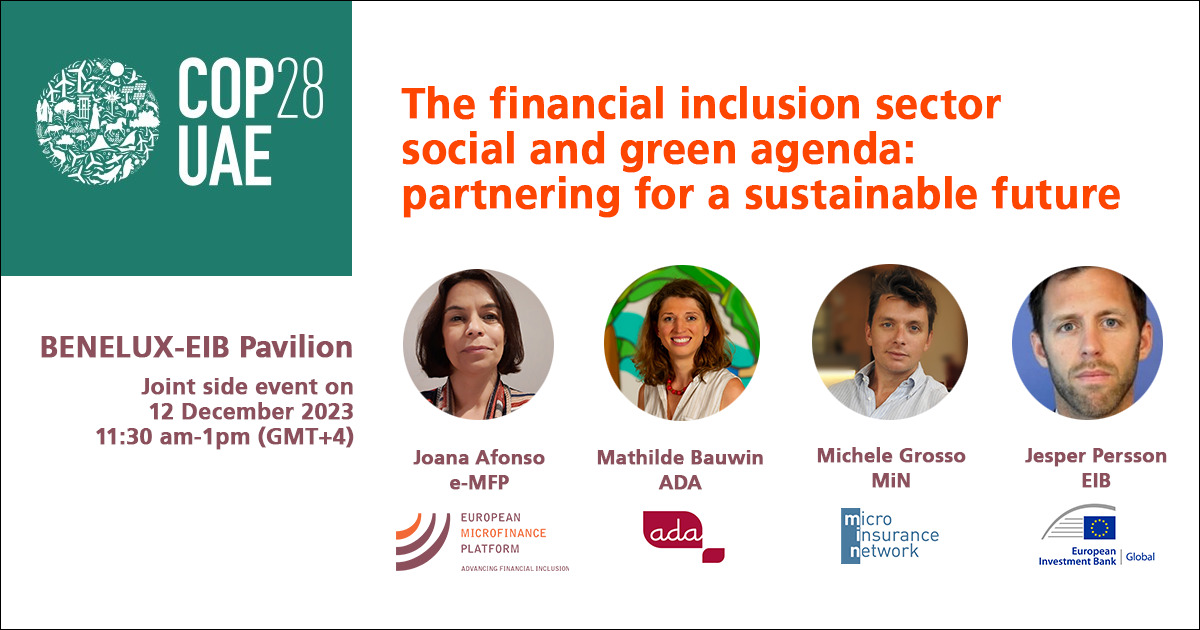 The financial inclusion sector social and green agenda: partnering for a sustainable future
The financial inclusion sector serves over 150 million low-income households and smallholder farmers in low and middle income countries who are, at the same time, the most vulnerable and the most affected by climate change. For the past 10 years, the sector has been working on green and climate-smart finance to address mitigation and adaptation challenges faced by both financial institutions and these vulnerable populations, challenges that threaten the achievement of the Sustainable Development Goals.
This session will delve into these challenges and the solutions being developed within the financial inclusion sector. It will provide concrete examples of green inclusive finance initiatives and tools, and discuss the critical factors needed to achieve green mainstreaming in the day-to-day activities of all sector stakeholders. The panelists will highlight how closing the information gap between stakeholders, scaling up initiatives, fostering innovation, establishing partnerships and exploring synergies with other sectors and global players are crucial to support a fair transition for the clients and the institutions, and to strengthen their resilience to the effects of climate change.
ADA, the European Investment Bank (EIB), the European Microfinance Platform (e-MFP), and the Microinsurance Network (MiN) bring the experience of an ecosystem of organizations based in Luxembourg – an internationally recognized inclusive finance hub. These organizations work all around the globe to create the conditions to establish a strong social and green agenda that truly supports financial services providers and their clients in improving their lives, coping with the risks and managing the impacts of climate change, and contributing to protect their local ecosystems and foster sustainable economic development.
Join this session if you'd like to deepen your understanding on how the financial inclusion sector is becoming a greener sector while maintaining its strong social mission and get insights on how to develop a green agenda when working with excluded and very vulnerable populations.
Speakers:
Joana Silva Afonso, Financial Inclusion Specialist, e-MFP; Board Member, SPTF
Mathilde Bauwin, Head of Knowledge Management, ADA
Jesper Persson, Head of Equity, Directorate for Operations outside of Europe, EIB
Michele Grosso, Board Member, MiN; Co-Founder and CEO, Democrance