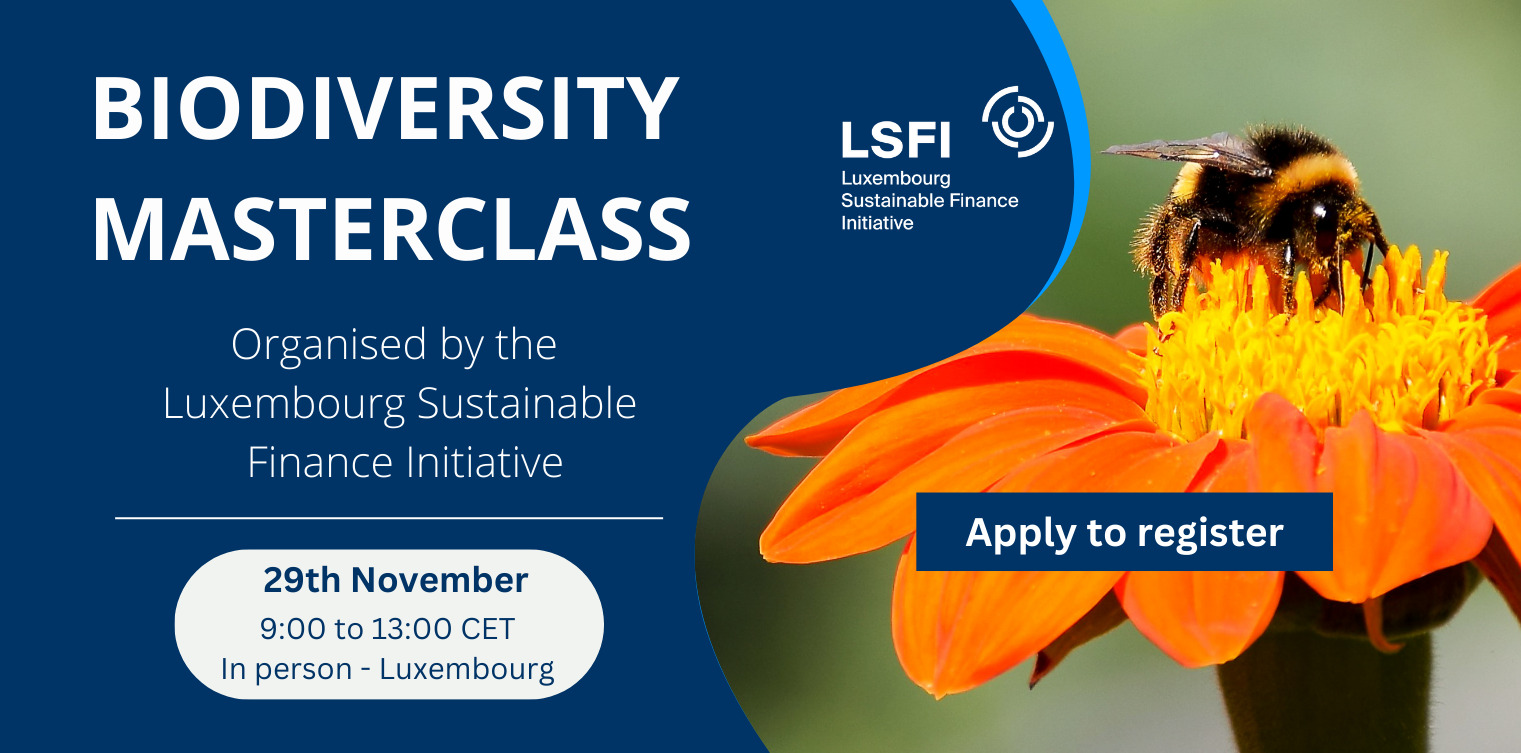 LSFI Biodiversity Masterclass
The LSFI is delighted to invite you to apply to its upcoming free masterclass on biodiversity on Wednesday, 29th November, from 10:00 to 13:00.  
What is this masterclass about? 
This masterclass will upskill Luxembourg financial professionals and sustainable finance experts on biodiversity. It will combine theoretical and practical content delivered by national and international experts.  
The session will cover where biodiversity stands, why its preservation is pivotal for our future, and what are the main frameworks and standards, such as the Convention on Biodiversity and the recently launched Taskforce on Nature-related Financial Disclosures (TNFD). It will also delve into integrating biodiversity into financial decisions by examining case studies.  
What is the masterclass agenda? 
9:00 to 10:00 – Networking Breakfast  

10:00 to 11:00 – Introduction to biodiversity: why is it relevant, what are the key conventions and frameworks

11:00 to 12:30 – Case studies analysis and discussion: how to integrate biodiversity into financial decisions

12:30 to 13:00 – Open discussion and closing remarks   
*Presenters will be announced in due time.
Who can attend? 
The masterclass targets Luxembourg financial professionals, with a preference for those working in the sustainable finance domain or directly affected by it. Other profiles involved in sustainable finance can also apply; however, preference will be given to applicants from the financial sector. 
How can I apply? 
You can apply to attend by filling in this form.
The LSFI will review the applications received and select the profiles as per the above-mentioned criteria. A message will be sent to all the applicants confirming their participation or not one week prior to the masterclass. All applicants are invited to save the slot in their agendas.
Practical information 
The masterclass is free for the attendees.
It will take place in Luxembourg on Wednesday, 29th November, from 10:00 to 13:00. A networking breakfast for the selected attendees will precede it as of 9:00.